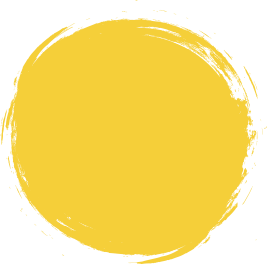 POWER PACK

The official workbook AND video training course for 6max players
The best 6max players are great hand readers that put their opponents on correct ranges time and time again. By doing the exercises in this workbook you will build a skill that you use in EVERY SINGLE HAND of poker that you play.
The 6max Power Pack gives you the study AND coaching you need to make 2017 your biggest poker year yet!
GRAB YOUR 6MAX WORKBOOK AND GET ALL THE TRAINING YOU NEED TO CRUSH IT
This workbook is for 6max players to improve their skills between sessions. With 40 exercises hand-picked to help you dissect situations that come up often, you will be challenged to explore ranges more powerfully than ever before.
Built specifically for online players; you will explore barreling, restealing, squeezing, thin value bets, and big bluffs using HUD stats and a step-by-step process. The workbook has 3 sections to give you a well-rounded exploration into your own ranges, your opponents' ranges, and even range vs range situations. Enjoy!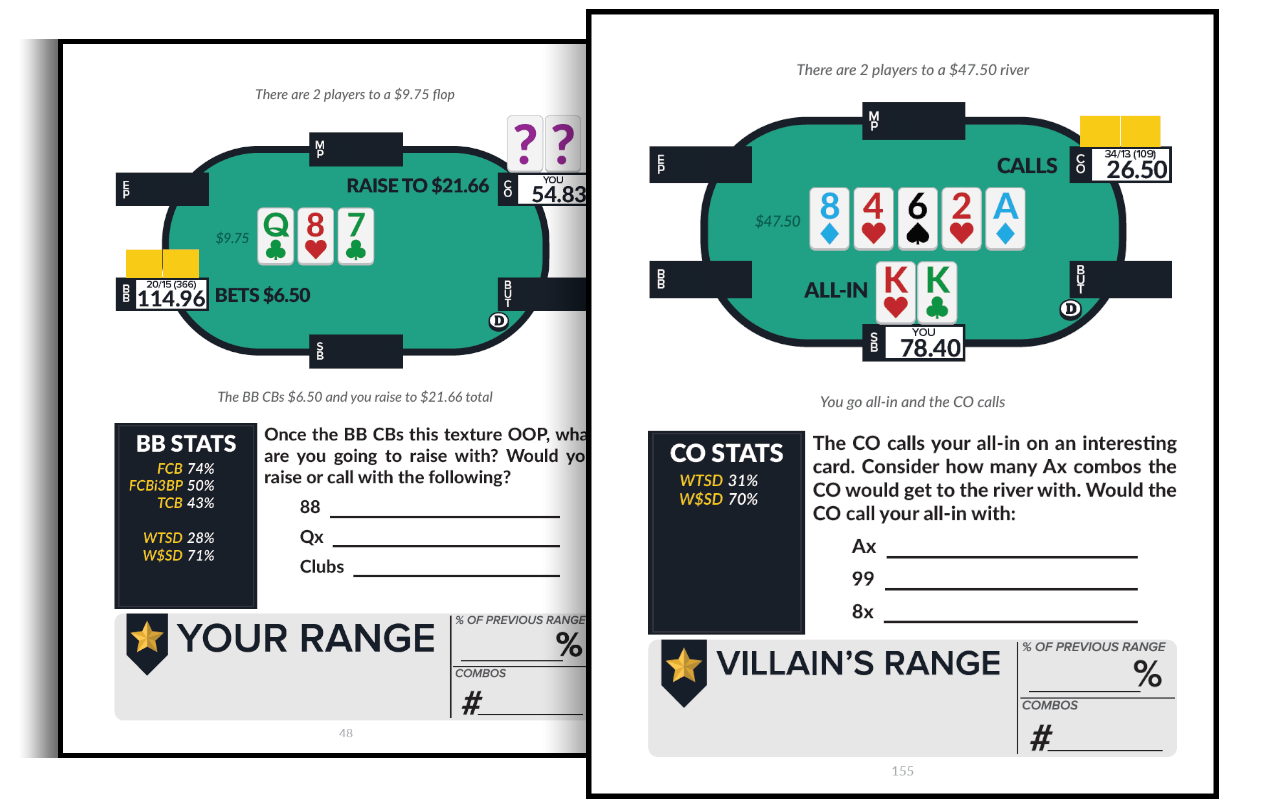 The full-color ebook contains 40 exercises that challenge your hand reading and line creation skills. Work through the street-by-street process that keeps you focused on the right things and builds the skills that you can actually use in real-time.
This PC-only software is a must-have for any serious poker player. Use it to explore how ranges hit boards, how ranges continue street-by-street, and develop an intuition for hand vs range situations. Your purchase comes with a lifetime license good for 2 different PCs.
Previously only available as a bonus item for The Hand Reading Lab, these ranges plug directly into Flopzilla and make your life so much easier. Save time when building preflop ranges and easily understand what common X% ranges look like in actual hand-form.
This ~2 hour long webinar teaches you how to hand read from preflop to postflop and gives you tips and tricks to use on every street. If you are still building your hand reading skills, watch this before you do your first exercise in the workbook...
Watch 6max professionals share their answers and range building tips with this collection of videos. Get professional answers and insights to 10 different hands from the book - giving you the advice you need to build precise ranges with ease. HUGE VALUE!
This is the most important skill a poker player can have...
FOR A LIMITED-TIME YOU ALSO GET EXCLUSIVE REPLAYS FROM THE 6MAX MASTERMIND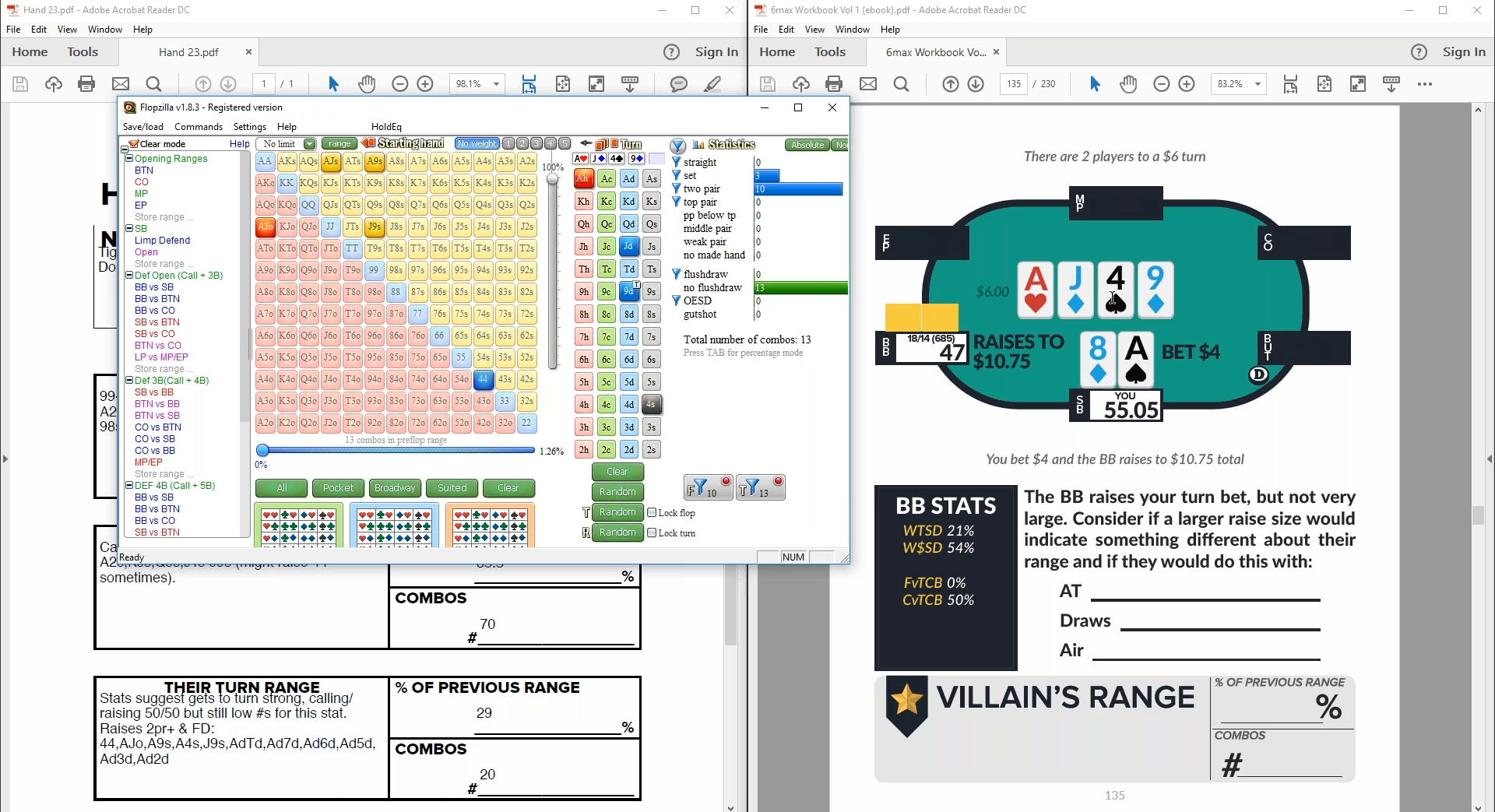 This Mastermind was hosted by Brad Lampman. Brad is an online 6max specialist and creator of the popular Red Chip Poker series "Building Complete Ranges". Watch him complete even more workbook exercises with real students playing the same games as you.
buy now and get this $400 bonus for free!
ARE YOU READY TO GET TO WORK?
Grab the Power Pack today and you get over $1,000 worth of poker training to help you take your strategy to new heights. This is the last piece of poker training you will need for a LONG time!
Answers to some of the most common questions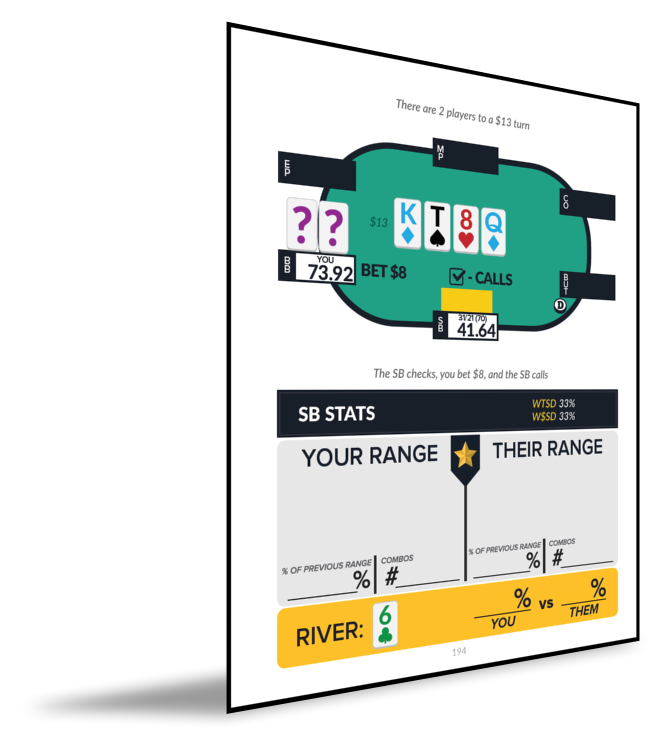 No. It would be impossible to give you an answer key since I could never suggest river ranges without first knowing what range you assigned preflop. The closest thing to an answer key would be the 10 professional answer videos that are included with this Power Pack where 6max coaches share their answers and process with you. It's HUGE value!

What limit(s) are the hands from?
I'm new to hand reading. Is this for me?
All exercises in this book are from 50NL 6max. This is perfect if you play 50NL or 25NL and are considering moving up...but the exercises are great practice for any online 6max player.
Yes. This workbook will force you to work through hand reading in a very technical way. If you are brand-new to hand reading the book will be tough at first, but after awhile the process will become ingrained and using this skill on the tables will be much easier.
Don't just take my word for it...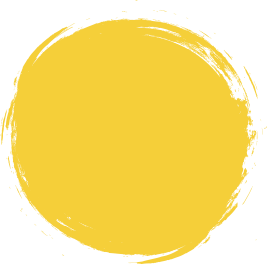 "My greatest improvement has come from reading this book. The exercises that involve narrowing your own range are value in and of itself. The more I do this book, the more comfortable I feel at tables or online, strictly because I feel as though my 'vision' is getting better. And that's exactly what this ranging book will teach you. How to have vision at the table. How to intuitively see what is and what is not in front of you when your opponent acts...Couldn't commend this book enough"
Get almost $1,100 worth of training for just $399.99!